What our Homeowners have to say...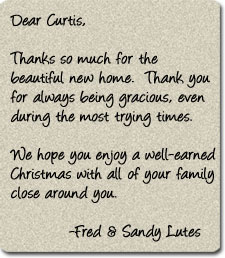 "
Partnership
- that is the best way to describe our relationship with Curtis Cumberland of Cumberland Development. From pre-construction documents to final inspections, Curtis made sure that we were an integral part of the construction process. Where most people dread the process of building a home, Curtis built two of them for us and we thoroughly enjoyed both experiences."
- Kim and Wayne Myers
"Our experience with Cumberland Development was exceptional. We would highly recommend them and have to several of our friends who decided to go with them as their custom home builder. We now consider Curtis a part of our family and would make the same choice if asked to do it all over again."
- The Nelsons
"The trusting relationship we formed with Cumberland Development was the foundation to a stress-free and enjoyable home-building experience. We were at work all day knowing that Curtis was making decisions as if he was building his own home. I would use no other builder if we had to build again."
- Jennifer Johnson
"It was always my dream to build a home, forever looking at floor plans in magazines and books. Building was the right choice. We enjoyed every minute. Knowing we could trust our builder allowed us to enjoy the process of developing our dream. The house was finished on time! If I would every build a house again I am a return customer. The end result... we love our house. It is the perfect home for us."
- The Browns
"Dear Curtis & Team,
Thank you for your time, energy and quality work. I appreciate you working with me from afar and ultimately helping me take care of my family. I look forward to working with you in the future."
Sincerely, Nisha